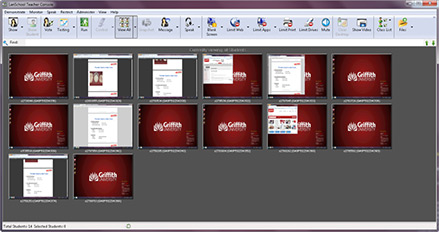 LanSchool is a Classroom Management application that is available in select Student Computer Labs (soon to be rolled out more broadly) across the University. It offers a number of features such as:
Screen sharing between teacher and class (e.g. for demonstration purposes, particularly when the projector is difficult to see or there is no projector in the room)
Screen sharing of selected student computer with class (chosen by teacher; for student demonstrations)
Monitoring of student computers by teacher (for large classes, this can help identify at-a-glance if anyone is having difficulties)
Sending files to students for use in class
Remotely controlling student computer from teacher console (e.g. for demonstrations. Computers can also be powered on/off in this manner)
Restricting the use of certain applications or websites
For assistance in using LanSchool, please consult the LanSchool Tipsheet and our Help and Resources section.