Secure Messaging allows the Griffith Dental Clinic to send sensitive and confidential information to external recipients via a secure and private channel.
About Secure Messaging
Secure emails are sent from your standard Griffith email account, however the recipient is sent a link to a Secure Message portal where they can logon to access secure emails and action accordingly.
Who can send a Secure Messaging Email
Only approved Griffith Dental Clinic staff can use Secure Messaging. To request access, complete the Secure Messaging Access Request form. Your request will be sent to Griffith Cyber Security team for their review and approval. Approval is only granted to staff who have a legitimate business reason for needing this service.
If you are unsure if you should request access, please contact Griffith Health, office of the PVC (Health), Executive Officer - Tasha Langham.
Secure Messaging Access Request form
Create a Secure Messaging email
Secure messages are sent from your standard Griffith email account, but are enabled secure
Compose a New Message
Type [Secure] into the Subject *
Compose the message as normal, including the subject, body of the message and adding any attachments.
Click Send
* The word [Secure] must be entered as shown; it is case sensitive and must included the square brackets. Typing [Secure] will trigger a security policy that will send the email via Secure Messaging.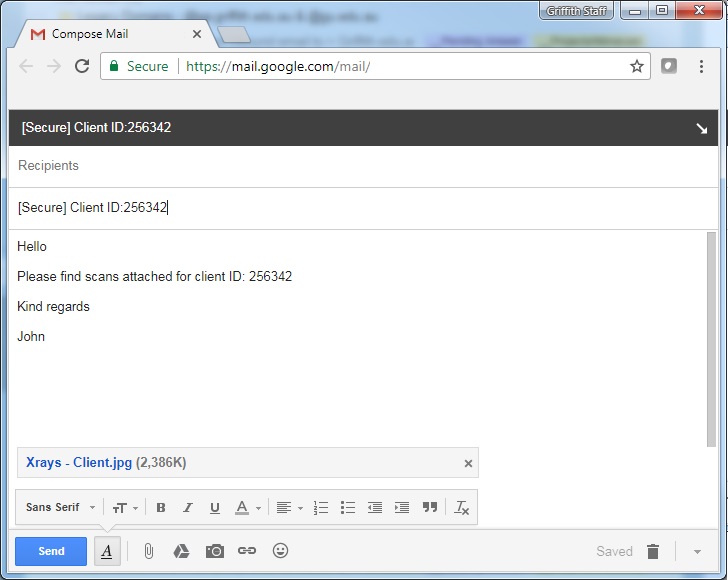 Please note: If the recipient replies to your messaging, you will receive it in your inbox as normal. It will display the following message at the top of the email. Please ignore this message. You can reply to the Secure Messaging email from directly your Griffith staff email (Gmail) inbox.

Internal recipient/s and Secure Messaging
Griffith staff will receive the Secure Messaging email via their normal inbox. Only external recipients will need to access the message via the Secure Messaging portal.
External recipient/s and Secure Messaging
Recipient will receive an email from Griffith that will prompt them to log onto the Griffith Secure Web portal to receive the email.
Griffith secure message emails will be sent to external recipient/s from Griffith Postmaster. The first time a recipient receives a Griffith Secure Messaging email, they will also receive a Secure messaging Password notification with a temporary password that can be used to access the secure email. The recipient will be prompted to change the password upon login.

Password notification
The password notification prompts to connect to the Secure Messaging Service and change password.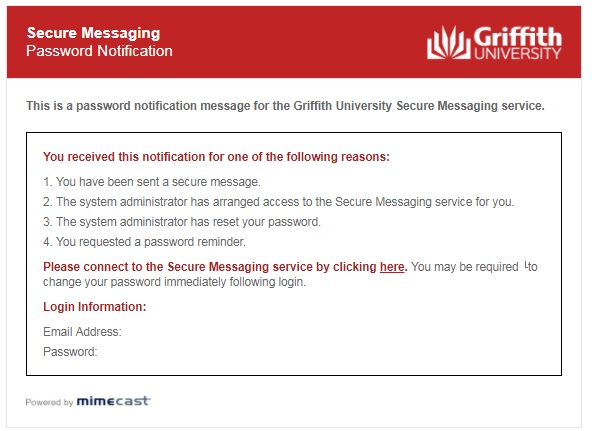 Log in to Secure Messaging
External recipient/s will receive an email notification in their normal inbox letting them know they have received a secure message. This notification includes instructions on how to access the portal, including obtaining a new password if required.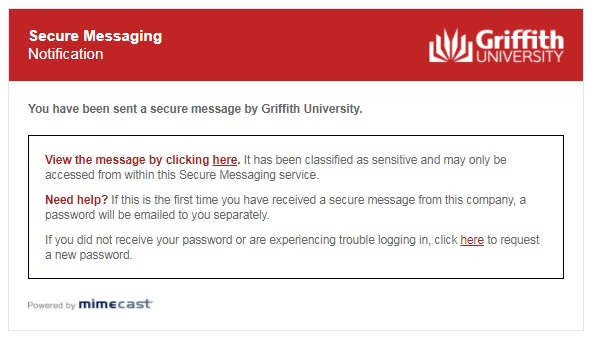 Recipient/s log on using their email address and the Secure Messaging password.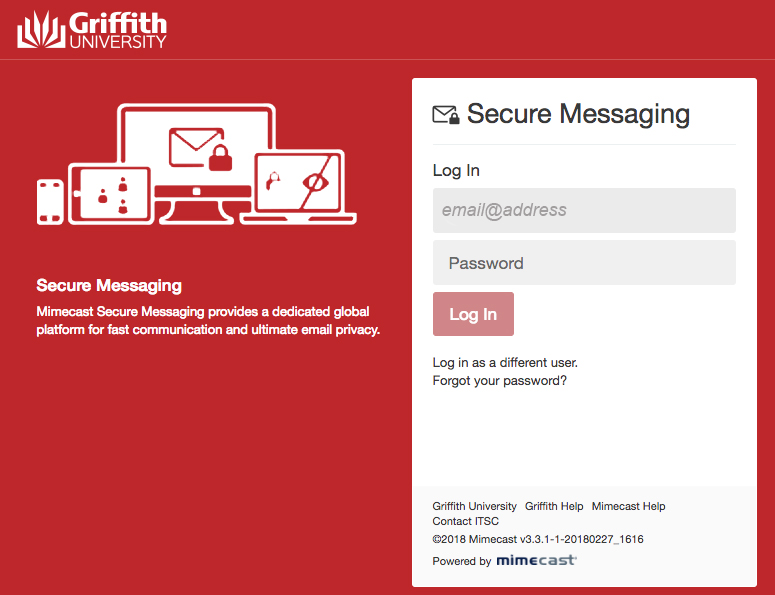 Emails can be actioned from the Griffith Secure Messaging portal as usual.

Need help?
If you need assistance with Secure Messaging, please log a job to the Messaging team by contacting the Griffith IT Service Centre.

Forgot your password
Click the Forgot your password link on the Secure Messaging page and follow instructions to change password.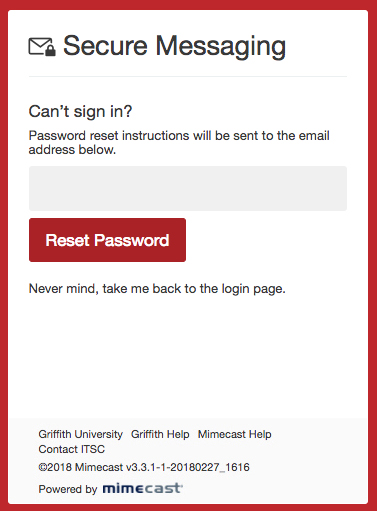 Log in as a different user
Click the log in as a different user link on the Secure Messaging page and follow instructions.