Windows 10 is the last version of Windows and the start of a new Windows-as-a-Service culture by Microsoft. Rather than new features being bundled up into major new versions every few years, all Windows 10 computers are part of a continuous improvement program delivering important feature upgrades
once or twice each year without the need to install a new Windows version. Minor security and bug updates will continue to be released monthly.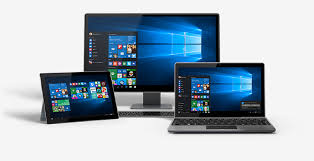 Since April 2017 all new University staff Windows computers have been delivered with Windows 10 installed. In November 2018 a staged upgrade of all Windows 7 computers to Windows 10 commences. The Windows 10 for staff upgrade project is due to be completed by the end of 2019.
The benefits of Windows 10
In terms of advantages to Griffith University, moving to Windows 10 helps ensure
State-of-the-art technology to our staff
Significantly faster start-up/boot times
Improved and extended hardware support
Increased IT security
Streamlined management capabilities
Support for the implementation of the Microsoft Office 365 for staff.
Note for Mac users
There are no plans to replace Macs with PC's. If staff have a Windows virtual environment on their Mac they will upgrade to Windows 10 using the same process as staff with Windows PC's.
Parallels Mac Management is available for Mac's to manage security and vulnerability patching. For more information see Parallels Mac Management.
Securing your data
As part of the implementation of Windows 10 staff will be able to use Microsoft OneDrive (recommended) or Folder Redirection to ensure the security of their data.
OneDrive (recommended)
Folder Redirection
Please note that Folder Redirection is only available to users that previously had a Windows 10 PC installed or upgraded prior to November 2018. This service has been superseded with the introduction of Office 365 and OneDrive.
Need Admin permissions?
Administrator permissions are turned off by default, but can be temporarily enabled if required.
Training
Microsoft